Seashells are a lot of fun for projects of all types, from picture frames, candles, and other home decor to creating jewelry. They can be a wonderful learning tool, create games or projects, and lessons for kids. I live In Rhode Island and shells are plentiful, but if you don't live near the shore you can also get them pretty cheap at Christmas Tree Shoppes, craft stores, and maybe even a job lot or Big Lots type store. I just love shells and figuring out ways to use them.
Images on this page are mine unless otherwise stated.
(photos and images by Castleroy-Lisa)
this article originally by me I wrote it for the squidoo site and it was added to so crafty magazine but the site went down so i re-added it here to my blog I hope you enjoy and find something you like. article copy right .
10 easy do it your self Ideas that come to mind
1 - You can buy shower curtain hooks and glue shells to them, make sure it is the side that shows when they are closed
2 - Add shells to hair items like bobbie pins, plain barrettes, and hair combs for fun hair decor
3 - Add to handles on drawers and cabinet doors
4 - Picture frames and mirror frames, you will find links below for DIY instructions
5 - Wine charms
6 - You can fill a glass container with sand, add shells and a candle, like I did in this photo
7 - You can make a night light
8 - Make a wreath
9 - Make jewelry
10 - Make candles
Seashell crafts with Debi Beard. She is just great :) I love her videos
Uploaded by SheSellsSeaShellscom on Jan 13, 2012
For more info, visit http://debisdesigndiary.blogspot.com or http://www.facebook.com/pages/Debis-Design-Diary/294627757255973?sk=wall or http://themermaidsmercantile.blogspot.com
This is a fun DIY craft video, how to make seashell covered letters using seashells, starfish and vintage jewelry, for more details visit her blog Debisdesigndiary.blogspot.com. These decorations are affordable, a great idea for a beach wedding, beach party or party favor, or bring the coastal, beach house feel into your home.
You can also find her on Facebook at Facebook.com/debisdesigndiary
Garden Pots
A garden, your porch, or in your home, let's decorate your flower pots. A wonderful idea found at the Martha Stewart site (Photo also from Martha Stewart page)
Martha Stewart site - seashell flower pots
More outside or porch ideas, how about wind chimes, or garland, or a big basket filled with all different sized shells.
Other ideas
-giant shells as planters
-imbed shells in homemade walks and stepping stones
-make a decorative section of your plant or flower garden, have them emptying from a silver sand pail and maybe have a succulent in another silver pail next to it, use a couple blue gazing balls laying about like bubbles for a great sea garden theme.
Or use large shells as planters for your herbs? Here is a great page with some
All Crafts Planters
The Office
Ideas for the office, or home desk, for adults and kids
- Business card holder as shown
- Use a large shell as a paper weight or book ends
- Glue to pen caps or pencils
- How about decorating a wicker trash can with a few
- Or the corners of a bulletin board or the entire frame
- A delicate look to the corner of a journal, or tiny shells to create a bookmark and note cards like here. I love these at
Better Homes & Gardens Seashell Craft Ideas.
More DIY SeaShell Crafts
Maritime and Seashell Decorating Idea - Maritime Tea Light Candle Centerpiece With Seashells.
Collected seashells from the last beach vacation can be used as embellishments for this quick and easy table centerpiece for the summer.
More Ideas wind chime or party decor Garland
women day create a Seashell wreath
DIY Seashell Lamp very cool I have got to give this a go
DIY seashell frame
DIY Seashell Mirror
Excellent idea DIY Seashell Napkin rings
27 fun crafts from critters to out side party lights
DIY Shell Jewlery
Seashell Jewelry Chokers
Seashell jewelry Pendant
Seashell Angels
Craftberry seashell ideas and DIY
DIY Seashell bottle toppers
another great seashell candle Idea embedded in candles
another seashell napkin ring Beautiful DIY
Another wind chimes DIY
Seashell Wreaths Are A Growing Summer Trend
Seashell wreaths are a growing trend
This image and tutorial on how to make this beautiful wreath are here at
A pretty cool life blog
Perfect front door decorations for the summer. Collect shells on your vacation and use them all displayed for all to see on a beautiful wreath
DIY Seashell Wreaths Links
How to make a seashell wreath (my romantic home)
Make a seashell wreath
clam shell wreath DIY
Seashell wreath
Seashell wreath crafts
Happy Moms summertime seashell wreath
great seashell squared wreath how too
holiday Seashell wreath better homes and garden
the thrifty craftier springtime wreath
Fun DIY Kid Stuff
How about making a shell identification board for their wall or maybe decorate a memory box or book/journal with shells or check out these fun craft ideas and sites
Seashell Critters
Seashell Mobile
Painting sand dollars
Sites with multiple ideas
Mother nature network
Nature crafts
Disney family fun
Grandparents dot com seashell frame, necklace and more
Hunting for Seashells With Kids
When my niece came visiting at spring break, we took the opportunity to make it fun and educational with a trip to lighthouses and later, the beach to collect shells to make necklaces. You also can bring a book and identify the shells you find. Here we are on the hunt.
Cleaning Seashells
What would be the reason, when gathering seashells, to wash them right away. Well if you are carrying them about on vacation on planes or a hot car they will soon smell pretty bad. A 50% bleach and water mix will turn the shells almost white which make them very pretty for weddings and certain crafts, a 10 or 20 % bleach to water mixture may let them be a bit more natural looking and will pretty much work just as well, just let them soak until all algae and periostracum (the flaky covering that is on most live seashells) comes off. The bleach, of coarse, also helps with smell from inside the shells, and lets your shells shine.
How I Make Seashell Candles
I recycle wax regularly, you know how you have just a small bit at the bottom of those glass candle jars left after the wick has burned out. What I do is I half fill a small pot with water, let it come to a boil, and then turn it down to medium. I watch and let all the wax melt, I then make a new wick by dipping household string in the melted wax and soaking it. I then pour the melted wax into my new container, the seashell, and stand the new wick in the wax. I hold the wick in the center and in a minute it will stand on its own, and in 5 minutes your candle should have hardened enough that you can clean edges if needed and you have a beautiful seashell candle. I love using the old jars of wax because once i am done and emptied the wax, the heat also allows me to peal off the label easily, and now I have a beautiful jar and lid i can use for bath beads, or shells, or food treats, or gifts.
Wedding Wish Basket
A great wedding idea is to have guests, as they arrive, make a wish on a seashell and put it in a basket. You can either have them secret or you can have everyone write their wish on the shell and have someone read each wish in front as part of your ceremony. Here is our wish basket that we still display on our piano.

You can use shells to decorate bouquets, or veils, or candles. Shells and the beautiful ocean make lovely themes you can even buy candy or chocolate shells to decorate cakes.
I also use them for bath oil beads and soap
Love shells here are some great gifts with shell photography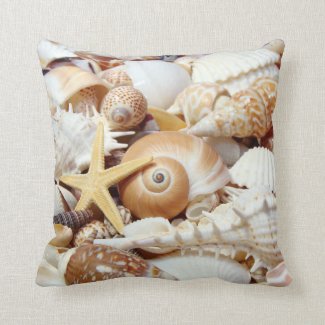 Seashells Pillow
by
CarriesCamera
Browse more
Seashells Pillows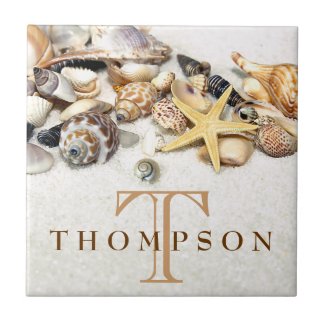 Seashells Tile Personalized
by
CarriesCamera
See all the
decorative tiles
from Zazzle.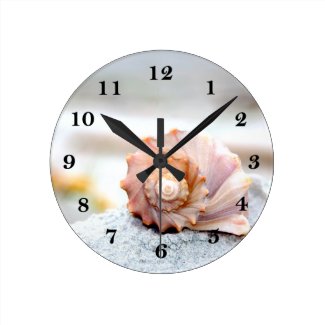 Seashell Round Clocks
by
CarriesCamera
Create a
personalized wall clock
online at Zazzle