Craft ideas
for pine cones. a recent winter was the worse I ever saw for pine cones. I Live In RI and my aunt lives in NH she said the same thing, she has seen nothing like this before. So with pine cones filling our yards why not collect some for crafts. I picked up a couple of hundred the other day I suppose, the ones from my deck were a bit cleaner than my muddy winter yard. This lens is full of craft Ideas for pine cones. As well as the possible reason for so many fallen cones this particular year.
(Article is by me Lisa Roy created for squidoo and added to so crafty magazine a few years back, I added this article here when squidoo went down for good)
First How To Clean Pine Cones For Crafts
When making things with pine cones you have collected you first need to clean them. So when you get home with you freshly gathered pine cones and are ready to clean them, you have a choice between 2 methods. You can soak and wash them or you can bake them. The washing method will remove the sap, and the baking method will glaze the sap. In either case, it will get rid of any stickiness so they can easily be used in crafts.
Line large baking pans with foil. The foil protects your pans from the sap. Heat your oven to 250 degrees and bake the pine cones for at least 30 minutes. This should take care of removing the sticky sap as your pine cones will become glazed where there was any. It is VERY IMPORTANT that you do not leave the kitchen when you bake the pine cones because you want to keep checking on their progress. They may need a little more time or a little less depending on pine cone size and how your oven generates heat. You may even decide to raise the oven heat for a few minutes, but not by much and only when completely supervised. This baking kills any bugs or spider mites that live in them. This also allows the seeds to fall out and sap to dry up. If you want your pine cones to close up tight, try plunging them in ice cold water after baking. This should make them close up tight, they will later re-open when dry.
If you choose the wash method, the best way to clean them is in a double sink. A large laundry tub type sink works great. You will place the drain stop in your sink and lay the pine cones down inside the sink. Then you will squirt some antibacterial dish liquid soap over the pine cones and begin filling the sink with very warm water. Be generous with the soap. Let the pine cones soak for at least 20 minutes, then return to the sink and let the water out. Now you can begin rinsing them. When the pine cones are drained and you can see they don't feel sticky, then give them a good rinse. If they are still sticky, then repeat the procedure, this time using some all purpose non toxic or disinfectant household cleaner. When you are done washing the pine cones, lay them on some plastic garbage bags or grocery bags on the floor to dry. Be sure it is in an area where children or pets won't tamper with them.
If you want to use natural unpainted pine cones in your crafts, you can spray them with a multipurpose polyurethane spray. Be sure to do that outdoors, and wear protective gloves and eye-wear.
Pine Cone Air Fresheners / Potpourri
You will need ground spices, glue, and a sponge brush
Allspice,
Cloves,
Apple Pie Spice
Cinnamon,
Nutmeg
Paint pine cone edges with glue using the sponge brush and sprinkle with any combination of, or all of, the spices listed and then let dry.
Another way to give scents to pine cones is by using essential oils. This can be expensive, but a has a longer lasting effect, and there are many scents you can purchase. Use any oil you like, cinnamon is the type used most. Spay cones and place in sealed bag or add a few drops in a sealed plastic bag with cones and shake several times, and then let set over night.
Ideas for scented pine cones:
Add a small ribbon or twine and hang them as decoration.
Or, place in baskets with some cinnamon sticks and greens to decorate or even use as
centerpieces
.
Also, you can pin or glue to items. I placed and pinned some to on an old straw hat and also to my straw hanging basket in the kitchen.
Or, you can simply lace into any kind of jars as gifts or to decorate.
And click
here for an air freshener idea
.
I make these fire starters as candle decorations
Gnome, Sheep, Glitter Cones, Christmas And More
As far back as I can remember we would collect pine cones for the holidays to make tree ornaments, the way we chose was to completely paint them either gold or silver, or to paint on glue and glitter them some, only lightly glittered to keep a natural look on tree along with the festive cones. You can see some of these done below in videos...


Fun Ideas for Pine cones
Pine cone owl

Pine Cone Elves

Pine cone Turkey

Pine cone Reindeer

Pine Cone Photo Holder

Pine Cone Angel

Pine cone squirel

Pine cone light

Simple Centerpiece

pine cone Centerpiece

Apple candles and pine cone dressing

Another pine cone angel

Pine cone fruit vace

Pretty pine cones and candles

Pine cone tree

Place cards

Snow People

Pine Cone Easter Tree

Christmas tree cone

Pine cone craft Ideas




Bird Feeders

A wonderful activity to do with children.



Pets And Pine Cones
Vet Answers
Are pine cones OK for pets?
Pine cones are not toxic unless trees are sprayed with chemicals. Some animal bedding and litter is made from shredded pine cones, and the Cat Fancier's Association recommends decorating Christmas trees with 'nontoxic' decorations such as pine cones.
However, fallen pine cones CAN harbor insects that you don't want your dog ingesting or being bitten by. They can also pose a choking hazard if your dog swallows large pieces. And a big problem is there being able to pass them if the pieces are too big. In ending as long as you supervise the pet playing with them, check for bugs, and not allow the chewing of them, then short pine cone play is OK.
Decorating not just for Christmas. A country look for your home
Pine cones can be used to decorate your home or parties all year, whether it is place settings, hanging items, or other craft ideas. I love the country look they give to my home, just use colors that go with your home's color palette rather than Christmas ones. You can use many craft ideas, can you imagine a pine cone wreath with fresh cut seasonal flowers, roses, lilacs, etc. Use small water clips on back of the wreath to keep them fresh or perhaps use crafty items like flags on the Fourth of July, or tiny country dolls, or fruit. There are so many possibilities.
found this Great Window dressing
Click Here
Gnome, Sheep, Glitter Cones, Christmas
As far back as I can remember we would collect pine cones for the holidays to make tree ornaments, the way we chose was to completely paint them either gold or silver, or to paint on glue and glitter them some, only lightly glittered to keep a natural look on tree along with the festive cones. You can see some of these done below in videos
.Love pine cones how about some art on items ?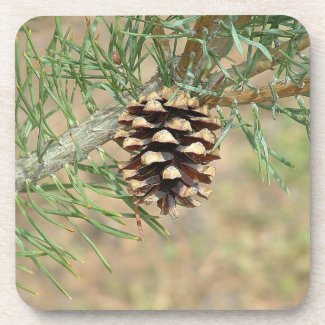 Single Pine Cone Coasters
by
natureby_lornakay
See other Tree Cork Coasters at
zazzle
Pine cones stamps
by
igorsin
Browse other
Pine cone Stamps